About Heath Croll – Trainer
RAMP Owner and Founder Heath Croll brings over 17 years of experience in the health and fitness industry.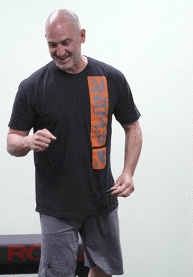 As a young athlete, Heath suffered numerous knee injuries that ultimately limited his potential to compete in sports, especially track and field. It was these experiences that led Heath towards a career in health and fitness, earning a B.S. in both Health and Physical Education and Sports Administration along with a minor in coaching. Additionally, Heath holds certifications through the National Academy of Sports Medicine (NASM) and the International Youth Conditioning Association (IYCA). Today, Heath is dedicated to helping others, regardless of age or experience, reach their full athletic potential.
Heath believes that everyone is an athlete, whether they play competitive sports or not, and that a safe and effective strength and conditioning program is the basis for achieving each individuals fitness goals. While Heath works with clients of all ages, he specializes in youth training and has developed unique programs geared towards the specific needs of young athletes ranging from 6-18 years old. In addition to teaching safe and proper training techniques, his programs go beyond physical education by helping to promote confidence, teamwork, and respect. Heath has successfully trained youth and high school athletes who have gone on to compete at collegiate sports.
When he is not in the gym, Heath enjoys spending his time in the great outdoors with his wife, their son, and 4 dogs.