About Scott Cavanaugh – Trainer
Assistant Coach Scott Cavanaugh has been working in the fitness field for over 7 years.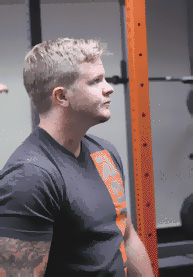 After receiving his bachelor of science in Kinesiology from Penn State University in 2009, Scott went on to specialize in power-lifting and Olympic weightlifting.  Over the past 2 years while mentoring under Heath, Scott has established a keen interest in training and developing young athletes.  He is passionate about physical fitness and helping all his clients achieve their maximum potential.  Outside of the gym, Scott stays active by snowboarding, mountain biking, and running in half-marathons and obstacle course races.  He is an avid sports fan and cheers for Penn State and  all the Philadelphia professional teams.